Football's coming home! But where is 'home' really for the England team?
Posted by ap507
at Jul 06, 2018 04:45 PM |
Permalink
In an article for The Conversation, John Williams discusses how every England fan in Moscow knows that that football is 'coming home', but can England really claim to be where the world's most popular sport rests its head?
Source: The Conversation; The last time football "came home" coincided with Beatlemania, the Vietnam War, and the start of Mao's Cultural Revolution. National Media Museum
Think: Leicester does not necessarily reflect the views of the University of Leicester - it expresses the independent views and opinions of the academic who has authored the piece. If you do not agree with the opinions expressed, and you are a doctoral student/academic at the University of Leicester, you may write a counter opinion for Think: Leicester and send to ap507@le.ac.uk 
"I don't know whether you've heard it – it's just a rumour". This was an England supporter in Moscow recently talking on BBC Radio 5 Live, alongside an unsuspecting fan of a rival World Cup team. "Rumour?" he is asked, with genuine interest. "Yeah, it's coming home. Football, and this World Cup. They're coming home". Cue howls of supportive laughter from his fellow England fans and bafflement from the rival supporter, who promptly wandered off for coffee in a nearby bar.
"Coming home": for the England faithful the phrase is meant to work on a number of levels. First and foremost, it is a claim to the invention of modern football. The Scots still insist that they're the true architects of the beautiful game, and to this day sports historians and others argue over whether it was in fact started by working classes in northern England or public schools in the south.
But fair enough, Brits shaped the modern game. This sceptred isle produced the first written laws, the first national football federation, and the first organised cup and league competitions. They also helped spread early versions of the game, hence all the anglophone club names that still exist across Europe and parts of South America. So yes, for the purists, England is football's sort of "home".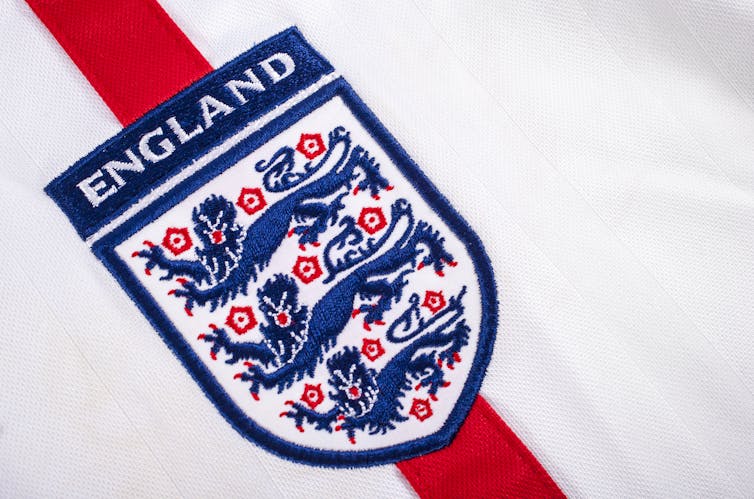 'Three lions on a shirt …' shutterstock
Parking the bus
But for the nation that founded football, England played a rather strange role in promoting international football competition. The first international football match ever played was in 1872 - England vs Scotland. The first match between England and a non-home nation took place 36 years later in 1908, by which time it was England's 96th "international" fixture. Through these early years, football didn't really "come" home - it resolutely stayed there.
When FIFA was formed in 1904, the English again kept their distance, erratically joining and leaving at will. They were suspicious of foreign distinctions between amateur and professional sport, and sceptical of other countries' interpretations of "fair play" (the enduring trope of the "foreign cheat").
They were also resistant to FIFA's perceived ambition to use football to improve international relations. For the English FA, football and politics should always be kept strictly apart - perhaps the reason they were so easily duped into hosting the German national team in heavily-Jewish north London in December 1935, a major PR coup for Chancellor Hitler. In 1938 on a visit to Berlin, the England team were, amazingly, ordered by British officials to give a pre-match Nazi salute - still one of the most notorious images in British sporting history.
As for the World Cup itself "coming home", well, England did not even take part in the competition until the Brazil tournament in 1950 – and then promptly lost to a team of amateurs from the US. Some English journalists misreported the result, not believing the dreadful news coming over the wires. The first World Cup was staged in 1930 and was won by South Americans from Uruguay - a good two decades before England's disastrous debut.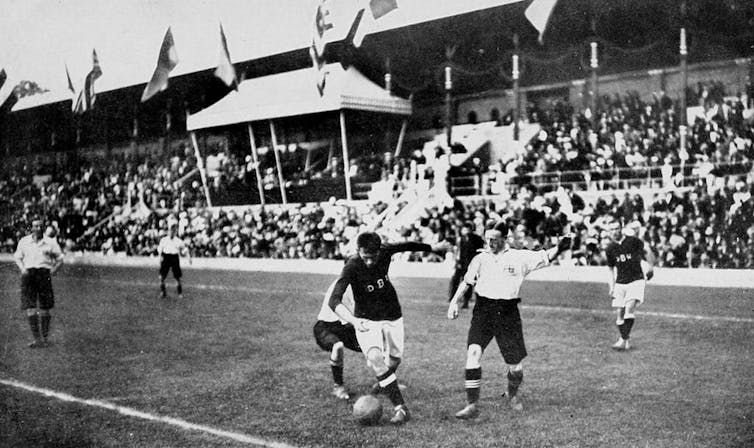 Great Britain play Denmark in the 1912 Summer Olympic final in Stockholm.
One-hit wonders
Older English readers will more fondly remember 1966, that glorious summer of Geoff Hurst, Bobby Charlton and Bobby Moore. This may not be a popular opinion but England's sole World Cup success came with more than a little help from friendly officiating. First Argentina's best player, Antonio Rattin, was mysteriously sent off in the quarter finals for so-called "violence of the tongue", before Hurst's infamous strike in the final which may, or may not, have crossed the goal line.
But in this context, "coming home" also refers to a pre-multicultural England: a reactionary appeal, perhaps, to a time when there were no black faces in the England team and few in the crowd. Is the phrase a thinly disguised and rather uncomfortable call for a return to a more monochrome and mythologised version of England's past glories?
A perhaps a more palatable perspective sees "coming home" as an attempt to revive the feel-good enthusiasm of 1996. The Baddiel-Skinner-Brodie song "Three Lions" had just been penned as both a eulogy and call-to-arms for the England team. Sven-Goren Eriksson, Steve McClaren, Fabio Capello, Sam Allardyce, and Roy Hodgson all lay ahead in what became a desperate and increasingly expensive managerial conveyor belt. But in 1996 defeat to Germany on penalties in the Euro semi-finals felt, somehow, like fulfilling international destiny. Good, honest triers, always just coming up short. We could not have known then that the shambling centre-back who missed the vital spot kick would have our fragile hopes for 2018 resting squarely on his shoulders.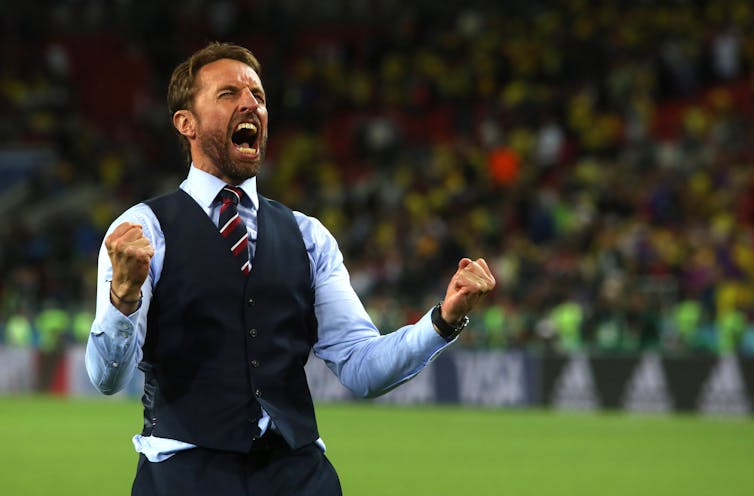 A redemption for England manager Gareth Southgate, 22 years in the making. shutterstock
So, the idea of the World Cup "coming home" has decidedly shaky historical roots. Sure, England invented the modern game, but it hasn't always wanted to share it with the rest of the international community. And England, founders of the footballing faith, has won only one major international football tournament in its entire history – which was at home, with referees in close attendance. So maybe its time for England to convert all this heady optimism into actually getting its hands on the darned cup, squirrel it home, and pull up the drawbridge.
Come on England!
---
More evidence-based articles about football and the World Cup:
John Williams, Senior Lecturer in Sociology, University of Leicester
This article was originally published on The Conversation. Read the original article.